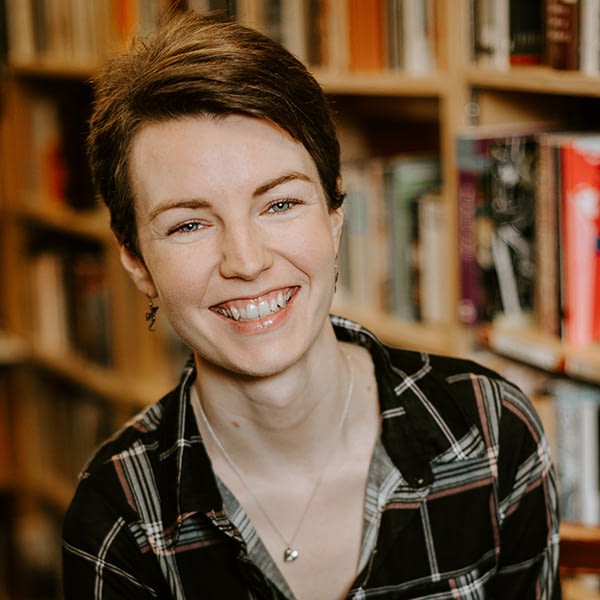 Allison (she/her) is an editor, author, and geek. She graduated with a BA in English, a certificate in Publishing, and a 90 WPM typing speed. She loves working on books with diverse characters, and though she is ruthless about cutting unnecessary words, she cheers authors on with undying loyalty. 
As the incurable author of Super Sick: Making Peace with Chronic Illness (part memoir, part research, and part pop culture analysis), and the co author of Making Myths and Magic: A Field Guide to Writing Sci-Fi and Fantasy Novels, Allison's work centers on publishing, diversity, science fiction, and fantasy. She makes her home in Hoth, a.k.a. Winnipeg, with her husband and their giant collection of tabletop RPG manuals.
• "So You Wrote a Novel... Now What?" — Course Content Writer
• "Query Letter Bootcamp" — Course Content Writer and Instructor
Business & Marketing Director
Kyle (he/him) has over ten years of experience in marketing and has been the program director and morning show host for two successful radio stations.
He is a jungle main, a Ravenclaw, and the Wayfarer's Guide to Worldbuilding podcast host! He's also a husband, a father of two humans, and a guardian of one furry companion. He loves seeing others reach their full creative potential.
Emma (she/her) is a makeup artist, writer, and history nerd. She loves lists, hates all things cherry-flavoured, and bears the reputation of cursed dice-roller. Words and quibbling are two of her great passions, so editing is a perfect fit. 
Emma lives with her husband and their two cats in an apartment which boasts a greater number of swords than rooms.
Public Relations Director
Christiana (they/them) is a big ol' geek who rages over not being a literal Jedi. They graduated with a diploma in photography, a diploma in creative communications, and a bachelors in rhetoric, writing, and communications.
They are spouse to a loving partner and parent to two very large and very spoiled cats. Ask them about their opinion on the Oxford comma if you dare!