Video Lesson: Traditional vs. Self-Publishing
Welcome to Day One of So You Wrote a Novel… Now What? Your mission for today is to watch this video, then take the quiz to ensure your brain has taken in all the information about traditional and self-publishing.
Lesson Transcript
Today, we're going to cover two broad topics on each end of the publishing spectrum to help set the stage for the next four days—traditional publishing vs. self-publishing. Neither is better than the other, and both have their pros and their cons. What's right for you isn't up to anyone but you. So let's get started, shall we?
Here's how self-publishing works.
Self-publishing gives you the most creative control over your book. You decide when it's done, when it will launch, who edits it, the title, the cover design, the formats available—everything. Plus you don't have to share your royalties with a publisher.
All that creative control is the advantage. It's also the disadvantage. Because all the work falls on you! Here are the basic steps involved with self-publishing:
Step 1: Editing — Self-editing and having critique partners read your work are great, but having a professional editor hone your draft—someone who specializes in your genre—is also important. A content (also known as a substantive or structural) editor will be able to help you with your story's structure, characterization, dialogue, tension, and more. Does that character's motivation make sense? Is that dialogue boring? You might be too close to your story to tell, but an editor will let you know! 
Content editors will help bring your book to industry standards and ensure that readers keep turning pages. Your book also needs to be copy edited (this is basically looking for grammatical mistakes) and proofread (this is the final pass after your book is laid out). Like making sure you use the Oxford comma… or fix that wayward typo.
If you are self-publishing a book, this means finding a freelance editor who is great to work with. Try getting suggestions from other indie authors of editors they've liked working with and/or ask potential editors to do a sample edit of your work before you hire them. We'll go more into editing on Day Three.
Step 2: Titling the Book —  A book's title should be memorable, should fit within its genre, should say something about the story, and, ideally, not be the same as another book (at the least, not another famous book). Try brainstorming a list of words associated with your story, write down anything that comes to mind, and then play with the list. Does a standalone word work? What if you combine some of the words to make a phrase? Come up with several potential titles and poll your friends or social media followers or honestly, random strangers at your local coffee shop to see what they think. 
For inspiration on what makes a good title, consider the original titles of these books before they were revamped:
First Impressions

 was the original title for

Pride and Prejudice

by Jane Austen. The final title points to the themes of the novel and it is also alliterative and memorable.

Atticus

was the original title for

To Kill a Mockingbird

by Harper Lee, but the author decided she didn't want the book named after just one character, and instead changed it to a reference from the book.

Tomorrow is Another Day

was the original title for

Gone with the Wind

by Margaret Mitchell. The phrase "tomorrow is another day" is the last line of the novel, but in the end, the author chose a line from a poem by Ernest Dowson, which alludes to loss. The title is a metaphor for the death of the way of life in the South after the Civil War.

The Moth Rising

was the original title for

The Song Rising

by Samantha Shannon. She tweeted that marketing vetoed it because they didn't like the animal word. 

The Stars Are Fire

was the original title for

Hold Back the Stars

by Katie Khan. She wrote in an article on Penguin about changing the title, commenting that a problem with the original was nearly everyone misheard it as "The Stars Afire." And then after the booming success of

The Fault in Our Stars

, her title sounded too similar.

Hold Back the Stars

was unique and fit the novel's theme perfectly.
For inspiration on title trends within your genre, a fun exercise is making a word cloud with book titles from the past year (just google "Word Cloud Generator" and you'll find a free app that'll do it for you. For example, here's one we made for fantasy books published in 2020. You don't need to follow a trend to title your book, but it's useful to know what's out there, what common words and phrases are being used.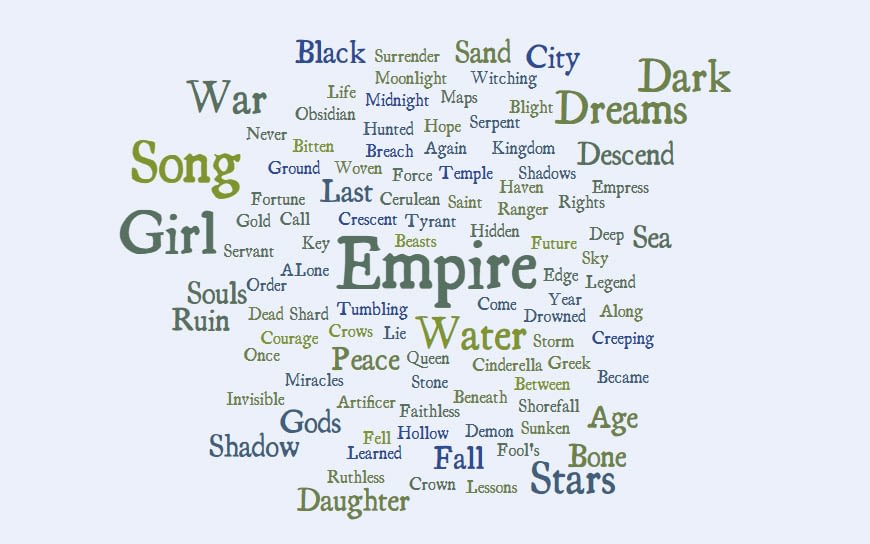 Step 3: Cover Design — The cover for your book should be professional. This means you likely don't want to do it yourself unless you are an artist and/or graphic designer with experience in book design. To see the difference, here's the first cover for The Martian by Andy Weir, who originally self-published the book. Then Crown Publishing bought the rights and re-released it with this second cover. See the difference? Both covers are simple, featuring Martian colours and little text. But the second has obviously been done by a professional.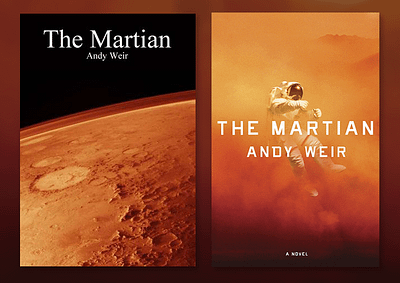 The designer, Eric White, replaced the serif typeface with a clean, sans-serif typeface that fits the sci-fi genre, centering it on the cover and adjusting the spacing between letters; increased the size of the author's name so it plays better with the title; used an image of a NASA astronaut so that people wouldn't assume the book was about a little green creature; and overlaid it with images of desert sandstorms to get the final effect.
There are several cover art styles you can go with. Covers like this use photo manipulation, where the designer has taken stock photos, overlaid them over each other, edited them, and added effects to make the cover pop. The designer may do a little bit of illustration in there, but it's mostly Photoshop magic. 
Covers like this are illustrated. Often, the artist and the designer are different people, where the artist provides the background art and the designer is responsible for the text and everything else. These types of covers, especially if they are drawn by a well-established artist, are much more expensive to procure than the first kind. 
Cover art also needs to fit the genre you are writing in. You should be able to tell what kind of book it is without even reading the back cover. Take a look at these covers. Can you tell what they are at a glance? I can easily guess, romance, nonfiction, and mystery or thriller. Your cover can be gorgeously illustrated, but if it doesn't look like it belongs in its genre, you will miss out on a lot of potential readers.
Step 4: Layout — In order for your book to be printed, it needs to be designed to specific dimensions, with margins, chapter headers, and page numbers. You can learn to do this yourself (and there is software, like Vellum, for example, out there to help you do so). Or you can hire a layout artist. 
You decide on the trim size of the book, which affects the book's price, as print-on-demand presses charge you based on page count, and page count depends on trim size. Standard print sizes for trade paperbacks range anywhere between 5" x 8" to 6" x 9". There's not necessarily a "right" answer to what your book's trim size should be. Take a look at the variety on this bookshelf. You do want to keep it consistent within series, though. You also have to decide what formats you want to publish: Softcover? Hardcover? Ebook? As a rule at Mythos & Ink, accessibility for the stories we publish is something that is important to us and may also be a reason to broaden your scope of formats available. So formats like Large print? Or  Audiobook? All of the above? The more formats available, the more opportunities readers have to pick it up. I recommend making your book available in as many formats as possible so it is accessible.
Step 5: Distribution — Once your book is edited and laid out with an eye-catching cover, you need to make it available to readers! You can do this by printing a bunch of copies yourself and selling them in person, but print-on-demand services are the less-expensive way to go. For example, you can upload your book to Amazon through a program called Amazon KDP, and then, if someone orders your book from Amazon, Amazon will print a copy and mail it to the person. They take a percentage of royalties, of course. Other distribution programs, like IngramSpark, will get your book into other bookstores and even make it available to libraries. You'll have to deal with things like ISBNs and key words during this step.
An ISBN is an International Standard Book Number—a 13-digit number that uniquely identifies your book. You will need a separate number for each edition or format (for example, one for softcover, one for hardcover, one for ebook, etc.). If you write an updated version of your book, an anniversary-edition, for example, that will also need a new ISBN. In Canada, you can get ISBNs for free. In other countries, you have to pay for them. Distributors like Amazon KDP will provide you with a free ISBN, but you can't use that ISBN if you want to print the book elsewhere. Having your own provides more freedom and opportunity to branch out.
When you upload your book to be distributed, you can add keywords. These are words associated with your book that aren't in your book's title. They're important, because they increase the book's findability. For example, if your book is an epic fantasy with dragons and multiple deities, you might use the keywords "dragon worship" or "war gods" or "dragon goddess."
Step 6: Marketing and Publicity — Getting your book into online stores is one thing, but people won't buy it if they don't know about it. Without a publisher behind you, the marketing and publicity falls on your shoulders. If you want early reviews, a blog tour, a book launch event, to guest on podcasts, to advertise on social media, or anything else to promote your book, you've gotta plan it!
Early reviews are a great way to get hype started for your book. Many book bloggers accept review copies, but it's best to get your book into their hands as soon as possible. And research to ensure the blogger covers your book's genre. Ask your local bookstore if you can host a book launch, or plan one online. Research podcasts that interview authors and ask to be a guest. Create graphics that you can post on social media and for others to share (if you aren't capable of designing these yourself, Canva is a great, free program you can use.) The amount of hype built up in anticipation of your book launch depends on the amount of effort you can put into it. 
Marketing is also your responsibility as a self-published author. While all the things we discussed earlier, such as blog tours and guest appearances, fall under the publicity umbrella (they're all about media coverage and generally don't cost you anything but time), marketing requires a budget. That's the simplified version, anyway. Marketing and publicity should never exist independent of the other and are very similar. Marketing is about communicating directly to the consumer about your book, and involves paid advertising, contests and giveaways, website content marketing, and more. We recommend creating a budget and keeping track of sales to see which marketing areas are the most lucrative for your book.
In essence, publicity is about media coverage and meeting the author; marketing is about creating multiple impressions with paid advertising."
Some authors love doing marketing and publicity, and enjoy every step of the book's creation process. Others only want to focus on the writing, and leave everything else up to someone else. And some may want to do this but find it overwhelming and would love to have someone else step in and drive that ship. That's where traditional publishing comes in.
Here's how traditional publishing works.
When most people talk about "getting published," this is usually what they mean. Publishing houses are businesses that make money by producing books. Authors sign contracts with these businesses, giving the publisher the rights to produce their book in exchange for a percentage of royalties. The details of the contract vary depending on the publisher, the author, and the book involved. Basically, you are giving up royalties of your book in exchange for the reach, prestige, and expertise of a publishing house to help take your book to the next level.
For example, a debut author might get signed for one novel, with the publisher taking the rights to publish any other books in the series if they choose. Whether they choose to publish more or not will likely depend on how well the first one sells. An established author, however, might get signed for an entire series at once.
Some publishers accept unsolicited queries (meaning, you pitch them the idea for your book directly, and they may offer you a contract), while others do not. The ones who do not require a go-between, called a literary agent, to present your story to their editors. Many publishers, especially large ones, rely on literary agents so that they don't have to read through giant slush piles of queries, and authors rely on their literary agents to navigate contracts and book deals. If you want to get published by a large press, you will likely need a literary agent. If you go with a smaller press, you may not need one. We'll go more into literary agents on Day Four.
The advantage of traditional publishing is that you have an experienced team behind you and your book. You don't have to do everything yourself, and you don't have to pay for anything yourself. Almost all the steps we went over when discussing self-publishing are handled by the publisher. You will work with a professional editor to hone your book into the best story it can possibly be. The publishing house will take care of the design, cover, distribution, and some marketing and publicity. 
These days, an author still has to do a fair bit of publicity themselves, as many publishing houses (at least, the large ones), focus all their marketing efforts on the big titles in their list, and give less attention to titles that aren't selling as well. If you're the author of one of those big titles—great! But if you're not, you may have to put in some effort to get your book noticed. However, simply having a big name behind your book means a lot. You may see more sales being traditionally published than you would starting out as an indie author, but you also have to share your royalties with the publisher.
The disadvantage of traditional publishing is some loss of creative control. You will likely get some say in the title, cover, and other creative decisions, but the publisher gets the final word. This loss of control tends to increase the bigger the publisher is. Small, independent publishers may give you more say in the production process. A danger of traditional publishing is signing away rights that you don't mean to. We'll go more into that—on intellectual property rights and contracts—on Day Five.
To recap: Self-publishing = more creative control, but you are responsible for everything and all the costs up front (like paying for editors, cover design, marketing, etc). This is also often a faster option than traditional publishing, as everything is according to your timeline. 
Traditional publishing = less creative control, but you gain the expertise of the publisher to push your book into more hands. Traditional publishing tends to work slowly and it can take several years between querying and getting your final book into the hands of readers.
What's right for you and your book? Well, that's ultimately up to you but there are many more options between these two extremes that we will go over tomorrow.